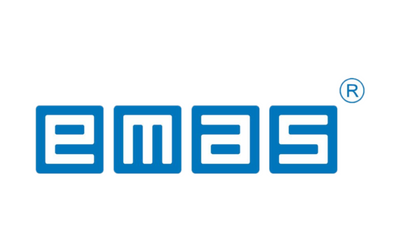 The EU Eco-Management and Audit Scheme (EMAS)
is a premium management instrument developed by the European Commission for companies and other organisations to evaluate, report, and improve their environmental performance. EMAS is open to every type of organisation eager to improve its environmental performance. It spans all economic and service sectors and is applicable worldwide.


Since the revision of the annexes of the EMAS Regulation, it is easier for an organisation already complying to an environmental management system such as ISO 14001 to step up to EMAS.

EMAS stands for…

…PERFORMANCE:

EMAS supports organisations in finding the right tools to improve their environmental performance. Participating organisations voluntarily commit to both evaluating and reducing their environmental impact.

…CREDIBILITY:

Third party verification guarantees the external and independent nature of the EMAS registration process.

…TRANSPARENCY:

Providing publicly available information on an organisation's environmental performance is an important aspect of EMAS. Organisations achieve greater transparency both externally through the environmental statement and internally through employees' active involvement.

With EMAS, your organisation can reduce its environmental impacts, strengthen legal compliance and employee involvement, and save resources and money!