Bopla Polysafe enclosures for indoor and outdoor use - vandal proof, corrosion resistant
Monday 23rd August 2021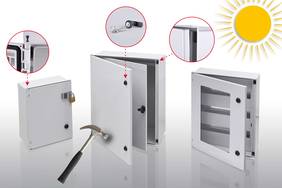 With its new glass fibre reinforced Polysafe products, BOPLA is now offering a range of enclosures for indoor and outdoor use. These enclosures provide an extremely high level of mechanical resistance to chemicals and UV irradiation. An intrusion protection system ensures that the switch cabinet enclosures are also suitable for installation in the public sector. The light and at the same time especially robust electronics enclosures with protection class IP66 are available in eight sizes.
Polysafe enclosure: vandal-proof, maximum corrosion resistance
8 sizes
Suitable for indoors or outdoors
Resistant against harsh atmospheres
Wide door opening (180°)
Anti-theft-protection system
1 lock with double bar insert
All the Polysafe enclosures' external components are made of plastic, so they give maximum protection against corrosion. They withstand temperatures of up to 960°C and are halogen-free and self-extinguishing. In addition, a protective cover integrated in the enclosure protects the interior against moisture by preventing water from dripping inside when the door is opened.
The door itself is available in two types – with and without a viewing window. It can be adjusted to open by 180° to the left or right, and can easily be disassembled if required. Internally-mounted hinges guarantee a high level of mechanical protection and stability. A reliable locking system provides protection class of up to IP66/DIN EN 60529. Various locks are available and can be exchanged at any time by the end user.
The light switch cabinet enclosures are easy and quick to install. External screw channels make direct wall mounting easy.
The electronics enclosures are available in 8 sizes from 300 x 250 x 140 mm up to 800 x 600 x 300 mm (L x W x H). Under normal environmental conditions, they will not require servicing for more than 10 years. They are impact resistant in accordance with test class IK10 acc. to IEC 62262. They can be supplied ex-warehouse in light grey (similar to RAL 7035) and in special colours on request.
As with all BOPLA enclosures, the Polysafe series also offers a comprehensive range of accessories, including a metal stand for installation devices, mounting panels, wall brackets, safety locks and many more.